Tell the speakers about Muhith
Speakers at a memorial event in memory of former Finance Minister Abul Maal Abdul Muhith hosted by the Gyantapas Abdur Razzaq Foundation at the University of Dhaka yesterday. Picture: star
">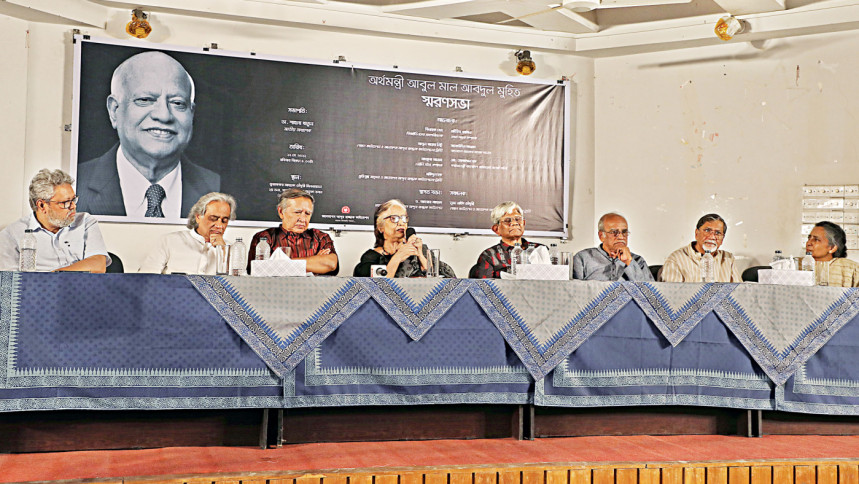 Speakers at a memorial event in memory of former Finance Minister Abul Maal Abdul Muhith hosted by the Gyantapas Abdur Razzaq Foundation at the University of Dhaka yesterday. Picture: star
Former Finance Minister Abul Maal Abdul Muhith was a politician who never supported any political 'framework' and never violated law and order, National Professor Shahla Khatun, the younger sister of Muhith.
She made the remarks while presiding over a memorial program in remembrance of the late minister.
The Gyantapas Abdur Razzaq Foundation organized the event at Prof Muzaffar Ahmed Chowdhury Auditorium, University of Dhaka.
"Muhith earned respect wherever he served. The only reason behind that was that he was always thinking of people and working for them," she added.
Dr Binayak Sen, director general of the Bangladesh Institute of Development Studies (BIDS), said Muhith was a kind of 'renaissance man' who also inspired others to achieve excellence in the fine arts, music, literature, etc.
"Today's generation tends to approach 'nano-specialization'. Muhith bhai was very different," he said.
Binayak said he was amazed to see Muhith's detailed accounts of famine under Pakistani rule in his letter of resignation during the liberation war.
"His contribution to the decentralization of development was very important… he worked to make the country a welfare state. You might as well call him a social democrat."
Mahfuz Anam, Editor and Publisher of the Daily Star, said: "We adore him as an older brother, respect him as a teacher and are overwhelmed by his conduct as a politician. His patriotism and his love towards the people to advance the country are reproducible."
"We criticized his role as finance minister on several occasions, but when we saw each other those criticisms never surfaced. Instead he showered praise on the work of our newspaper."
Mahfuz Anam also said that Muhith's initiative to turn the opinion of the United States in favor of Bangladesh during the liberation war was a necessary step at that time.
As finance minister, he tried to allocate more to social protection, including education, environment and health, but repeatedly failed to do so for different political realities and situations. "But he had good will and he did his best."
Muhith played a vital role in implementing the Prime Minister's plans to build the Padma Bridge with the country's funding, he added.
Former Bangladesh Bank Governor Salehuddin Ahmed said Muhith never interfered in the bank's work as finance minister. Instead, he chose to advise.
"He was liberal in considering the opinions of others and was also tolerant of them," he said.
Mofidul Hoque, administrator of the Liberation War Museum, said Muhith's books on the liberation war are very important writings. "His contribution to the cultural emergence of the country is also unforgettable."
Ahrar Ahmad, chief executive of the Abdur Razzaq Foundation, said Muhith's specialty was appreciating individuals with politically opposed ideologies, which is very rare.
Abul Khair Litu, chairman of the foundation, said Muhith supported him during his days as a young entrepreneur. "He even arranged the first bank loan for my jute business," he added.
Former Secretary M Mokammel Haque, Foundation Administrator Dr Rounaq Jahan and M Saiduzzaman sent written speeches for the program, led by Luva Foundation Administrator Nahid Choudhury.