The Times-Picayune | The Advocate published an investigation into Louisiana's child welfare crisis on Sunday. The state's Department of Child and Family Services struggled to respond to growing reports of child abuse as the agency bled staff.
---
Are you a Louisiana DCFS worker or have you been part of the child welfare system?
---
Here are three numbers that help put Louisiana's alarming statistics into perspective:
DCFS has 400 vacancies:
DCFS has been underfunded and understaffed for several years. Former Governor Bobby Jindal cut 1,000 agency jobs and cut its budget by nearly half. But in the seven years since Jindal has been out of power, Gov. John Bel Edwards and the Louisiana Legislature have failed to bolster the department.
Even though the number of employees DCFS has the budget to hire has increased slightly, the department cannot fill the available jobs. DCFS Secretary Marketa Garner Walters told the Legislature in March that she had scrapped a plan to seek 110 new positions for her office after noticing the department already had 400 vacancies.
"We have the 400 empty chairs because we are killing our staff," she said. "They come out in these incredible circumstances."
Louisiana children and teens are dying of homicide at a rate of 11.4 per 100,000 – the highest rate in the nation
Data from the National Centers for Disease Control and Prevention and the Kids Count Data Center show that in 2020, young people between the ages of one and 19 were killed at exceptionally high rates in Louisiana. These deaths include all manner of child and adolescent homicides, not just those caused by abuse and neglect. Still, children in Louisiana were seven times more likely to die by homicide compared to the top-ranked state in 2020, Massachusetts.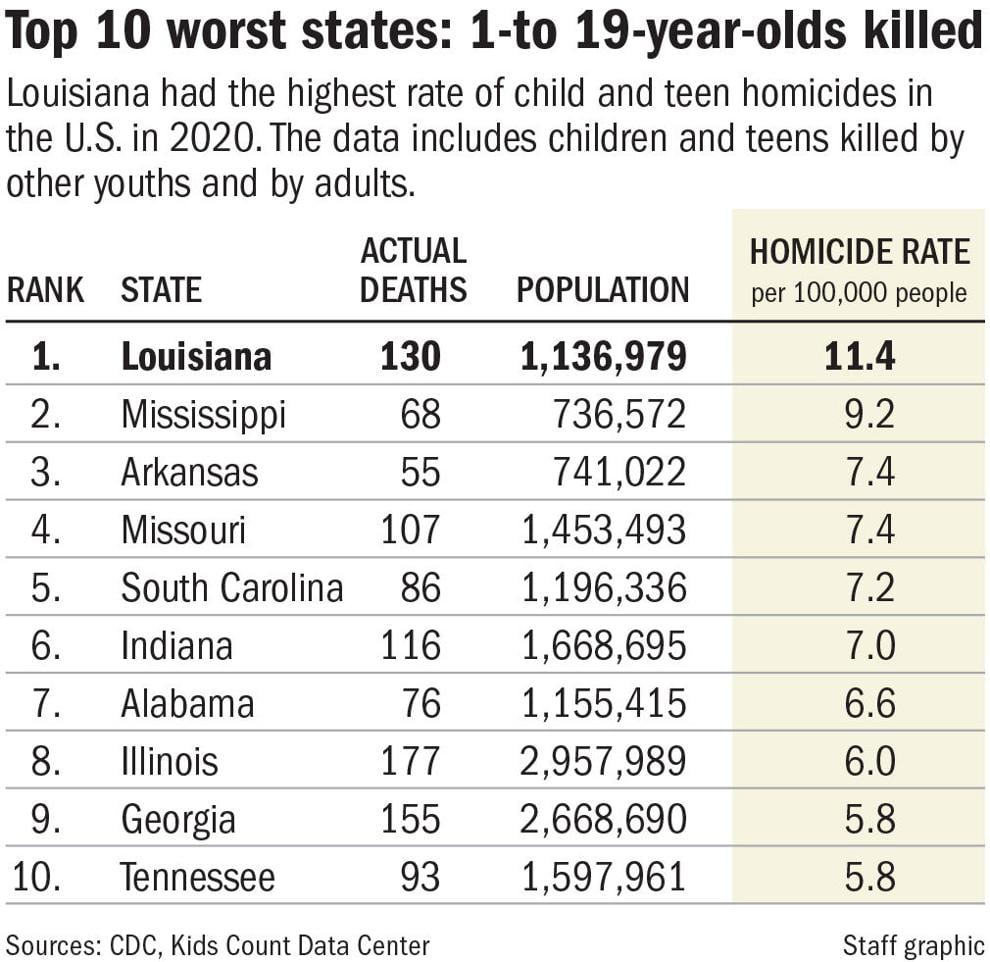 Children aged 1 to 14 also died in a 50% higher rate than the national average over the past decade.
So far this year, DCFS has opened investigations into 53 cases where abuse or neglect are potential factors in a child's death. Each child's death may include more than one allegation for DCFS to investigate. The number of such cases this year already exceeds previous years: DCFS opened investigations 47 times in 2021, 37 times in 2020, 48 times in 2019 and 52 times in 2018.
In the 33 cases DCFS has completed reviewing so far this year, they have determined that 19 allegations of abuse or neglect in a child's death were valid.
The number of children under 5 killed in Baton Rouge is three times higher than last year
In East Baton Rouge Parish, 12 children under the age of 5 have been killed so far this year. Last year, at this point, only 4 children in the parish had been killed.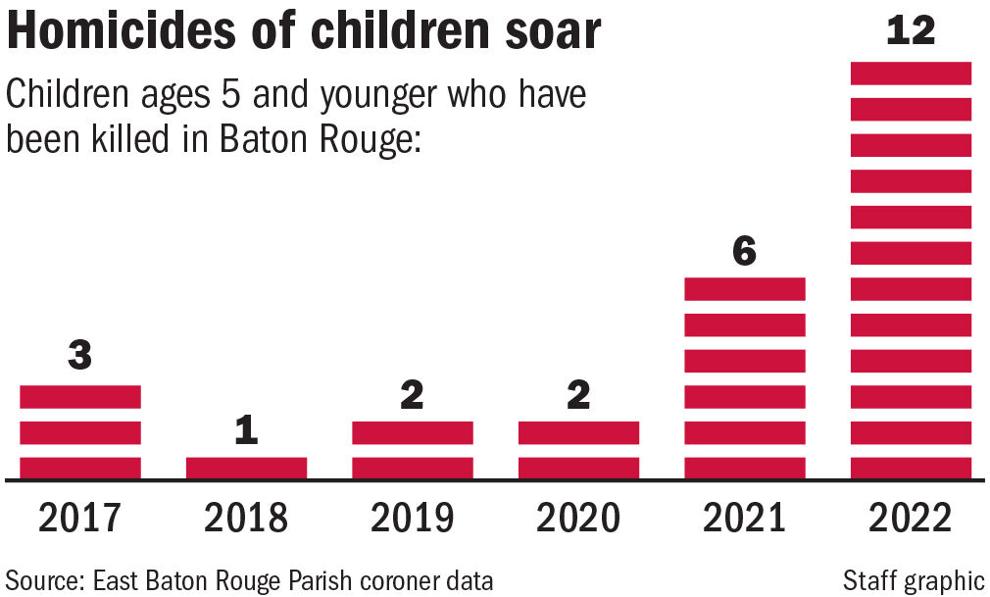 In most cases this year, parents or their partners have been arrested in connection with the children's deaths.
Among the 12 people who have died so far this year were Summer Hawkins, 5, Kaden Johnson, 2, Kyland King, 2, Dominik Noehl, 8 weeks, Mitchell Robinson, 2. and China Record, 4 years old.
Summer's father, Aaron Hawkins, was charged with second degree murder and second degree cruelty to minors; doctors found "severe bruising and trauma" all over her body.
In Kaden's case, her mother's boyfriend, Brynnen Murphy reportedly shot Kaden's mother and her unborn child to death, then threw the toddler off a bridge. Murphy was charged with two charges of first degree murder and first degree feticide.
Kyland's father Anderson King has been arrested for first degree murder after being charged with beat the toddler with a belt and failing to seek immediate medical attention after the boy fell down a flight of stairs.
Dominik's parents, John and Analise Noehl, were arrested for first degree murder account after the baby was hospitalized with skull and rib fractures, internal bleeding and other serious injuries. They both tied themselves to jail for $50,000.
Mitchell's mother, Whitney Ard, was arrested on one count of negligent homicide after the toddler overdosed on fentanyl. He was hospitalized twice in the months leading up to his death and tested positive for fentanyl, but DCFS did not remove him from his mother's care.
China's mother and grandmother, Kadjah and Roxanne Record, were both charged with first degree murder and cruelty to minors; police and prosecutors say they forced the girl to drink a bottle of whiskey until he died.