Jhe small van drives up to the estate, and from the small terraced houses spring up mothers holding a handbag in one hand and a child in the other. They don't rush for 99 Flakes but for the essentials of life, like bread and soap. Things they can't easily afford elsewhere.
If you want a close-up on the cost of living crisis, don't ask an economist – talk to someone who's been through it. People in this queue in the town of Shotton, North Wales, have their monthly budgets memorized to the last decimal place. "I went down to the shops this morning. Guess how much they charge for a cucumber? Deana asks. "£1.10". There are gasps. A woman worries about feeding her ginger cat, Thomas. A few years ago, £2 bought 10 boxes of his brand of cat food; today, she says, it's £4.95 for eight.
The mobile shop, from local company Well Fed, even undermines local Iceland. Deana picks up her cucumber here for 50p and goes home with a big bag of fruit and veg. She and her five-year-old boy aren't going to be without it just yet, but in a few weeks she thinks they might have to. "When winter comes – bang."
By Deana's calculations, the only thing standing between her and disaster is the surreal heat of this summer. Once that fades, it's "the lights come on at 3 p.m., the heat comes on" – and the fuel bills rise by an amount that will send his family rolling. "Am I going to survive this winter? she asks spontaneously. "I do not really know." Rarely have I heard anyone discuss the prospect of their own ruin in such an even tone.
Newspapers cover the cost of living as a crisis in the economy, society or politics, but now it's bigger than all those lockers. Britain is sliding towards a humanitarian disaster.
The term is usually reserved for distant countries devastated by hurricanes or drought, rather than wealthy societies whose citizens wear Apple Watches and enjoy a cheeky Deliveroo. But if we use the UN definition of a humanitarian crisis as "a singular event or a series of events that threatens in terms of [the] the health, safety, or well-being of a … large group of people," then that's exactly where we're headed.
By this time next week, the energy watchdog will have announced that fuel bills are set to rise by 80%. When this increase takes effect on October 1, plus another in the new year, some 45 million Britons – two-thirds of our entire population – are set to slide into energy poverty.
You can hear the panic even among the adults whose job it is to make us keep calm and carry on. Bank of England Governor Andrew Bailey called the outlook for food prices "doomsday", while radio hosts say their callers now looks hopeless.
In the midst of it all, Westminster disappeared. As inflation hit its highest level in 40 years this week, the prime minister was soaking up the sun on a Greek island. Keir Starmer has spent months crafting a half-policy on gas and electric bills, which is effectively a safety net for the big six energy companies. Meanwhile, daily life for millions of people is rapidly becoming unaffordable. Rents are skyrocketing, gas stays high, and, as Deana and her neighbors know, food prices are skyrocketing.
At the offices of local Senedd member Jack Sargeant, they have noticed a big change in the volume and type of requests for help they are receiving. The usual targeted emails from familiar voters are being replaced with Facebook messages from those who have never made contact before.
"They're vague, because they don't know what to ask – just that their mother needs help or their neighbor is in bad shape," says staff member Ed Stubbs. "And next week we'll have more as parents start thinking about school uniforms."
When a country in Africa is hit by a humanitarian emergency, impeccably groomed television correspondents point out how long it has been on the brink of disaster. What will they say here in their pot stories? In Shotton you could start the story in March 1980, when the giant steelworks closed and 6,500 residents were made redundant in one day – at the time the largest industrial layoff in Western Europe. A much smaller factory today finishes steel coming out of Port Talbot, while a few miles away is the true indicator of Shotton's current fortunes: an Amazon warehouse. Along with shops and food factories, it forms a large part of the local labor market. For everyone else, there's universal credit and the kind of low-income dodging and diving that statisticians call self-employment. And I mean low income: in some parts of this city, almost half children grow up in poverty.
Most of the UK is wealthier than Shotton, but our national history is no different. We have gone from the deindustrialisation of the 70s and 80s to the financial bubbles of Tony Blair passing through the austerity of David Cameron and Theresa May. Whether Conservative or Labour, our political classes have teetered from crisis to crisis while feeding us a diet of shoddy lies and alibi.
Thatcher promised a national renaissance, New Labor a knowledge economy, George Osborne a march of creators and Boris Johnson a leveling up. None delivered. Meanwhile, our institutions have been flattened and our social fabric torn, leaving us with little protection from the crisis about to hit us. In four decades, we've gone from secure jobs to food bank benefits – and now, as my colleague Josh Halliday reported from Liverpool last month, food banks are running out of food to donate.
Food banks started in the UK as a palliative, but donated tins and leftover bread have become part of our welfare state. As Robbie Davison, who runs Well Fed, says, "It's not the food people would choose for themselves. It's a model that says, "We know you're poor, and you'll be fine. It's the right wing. I've written before about Davison and his alternative model of providing good food for everyone, regardless of income. His business is squeezing profit margins to make meals on wheels and generous ready meals at £2 a pop, and he is pushing for councils and others to join him.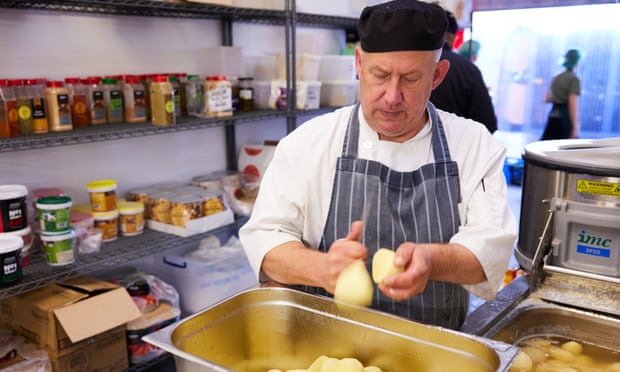 At the local housing association, Clwyd Alyn, they now provide Well Fed lunches free to all staff. The program began this spring after chief executive Clare Budden noticed that some employees weren't eating on the job, while others were taking a lot of overtime to get by. Already paying in line with the market, Budden's team concluded that another pay raise would be partially imposed. Free lunches, on the other hand, can save full-time employees around £100 a month. When I met Budden in Davison's kitchens, she had brought Robin Rolfe, one of her guys in IT who noted that meal breaks were now more social than a sad sandwich eaten at a desk.
It was a rare moment of joy before their thoughts turned to the months ahead. Rolfe talked about starving his family's prepaid money meter. Budden plans to donate hot water bottles and blankets to tenants of his housing association. "I'm worried that some of our tenants won't make it through the winter because they won't turn on the heat."
"We are in wartime, modern times," Davison says. "All the lights will be on in the town centres, we'll still have all the trappings…" Budden laughs: "We'll still have the John Lewis commercial and it [will make] we all cry and want to spend money we don't have.
And on an estate on the other side of Shotton, signs will still warn against ball games being played on the grass, and for pet owners to pick up after their dogs. But only God knows what will happen to the families inside these little houses.